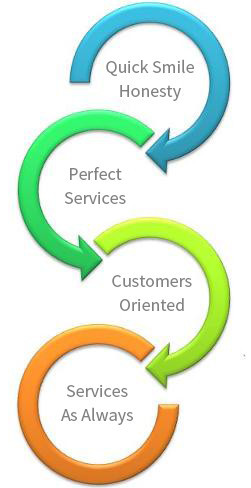 Based on our nationwide employees, Hongyu has put into place a full-fledged after-sales network, hotline and ERP information management system. With our departments on technical development, production and sale meeting service needs in the first place, our service can be offered in a more satisfactory way.
We are fully aware that the customers' purchasing of our products aims at bringing them profit and value. This makes it necessary for our service staff to think about the users all the time and to offer comprehensive service to solve the equipment's problems. We have been striving for raising the professional ethics and aim consciousness of our service personnel and their professional quality and service level, cutting down related procedures and shortening work duration so as to meet the standard of "without waiting or delaying and offering comprehensive, timely and prompt service". Through offering service, we shall try to offer guarantee for our users' work and bring benefit and value for them. Moreover, we shall endeavor to build up a new service image to win more time and create benefit for our users, to focus on customers sincerely by offering service available at once and to create value for customers.
Service spirit:promptness, smile, integrity, satisfaction and study;
Service principles:Where there are customers, where there will be our service.
     Timely response is our only standard.
     Solving problem is our primary goal.
Service slogan: All for clients, for everything of our customers, for all the customers;
Service objective:Make you rest assured with our sincerity; be of one mind with our customers;
Service requirements:User foremost, remain consistent;